Custom T-shirt blankets are here! Congratulations on choosing the right gift for graduation. Or for those looking for a gift we'll keep this secret between you and I. We can help you make your ideas come true, with high quality and affordable t-shirt quilts. T-shirt blankets and t-shirt quilts make a great lifetime of memories. At Cheung's Tailor Alterations we can help you save those old t-shirts into memories. Gifts for college and gifts of a lifetime. It's also very socially and environmentally impactful!
We try to make this process as simple as possible – we'll start by saying please don't cut out your own t-shirt panels. The following are approximations for viewing purposes only. Final measurements are determined by the tailor and yourself on what you'd like to have done. Generally for most blankets we would have you consider several looks first.
How do I want my quilt to look, what style am I hoping to acheive? 
Small inner quilts – where the blanket exceeds the edges. This is generally done for clients who don't have enough t-shirts or are hoping to just have a larger blanket quilt.
To the edge – where the t-shirt quilt goes to the edge and highlights the entire t-shirt from side to side.
Minimal edge and binding – where the blanket has a seam on the edge or you may also add binding to the edge to create a cohesive look.
What size T-shirt blanket do I want?
Regular Lap Sized T-Shirt Blanket
Regular Twin Sized T-Shirt Blanket
Regular Full Sized T-Shirt Blanket
Regular Queen Sized T-Shirt Blankets
Regular King Sized T-Shirt Blankets
Custom Sized.
How many T-shirts to are needed: 
Lap Sized – 16 T-shirts (4×4)
Twin Sized – 24 T-shirts (4×6)
Full Sized – 30 T-shirts (5×6)
Queen Sized – 49 T-shirts (7×7)
King Sized – 64 T-shirts (8×8)
Custom Sized – Varies this also is dependent on designs too
How do I start my t-shirt quilt? 
Choose your size T-shirt Blanket
Search for the number of shirts above [Remember if you don't have enough we can use the back sides]
Choose the design [Sit down with pencil & paper design how you'd like to set up the T-shirt blanket. Think of the colors, wording, logos etc.] Easier way is to lay it out on the floor, take a picture, and send us an email!
Choose your style [To the edge or not to the edge]
Consult with Cheung's Tailor [ We'll look at #1 – #4 and give you an idea of what you'd need. Possibly, binding and fleece for the underside]
Wrap it in a gift box, write a card, and take a picture! Smile 🙂
T-Shirt Quilts Ideas Are Also Great Ideas For: 
Sweatshirt Blankets
Custom Quilts
Graduation Gifts
Memory Quilts
Military Quilts
Yourself!
Final Thoughts: 
Remember shirts have 2 sides as well. When you don't have enough shirts think of fillers and designs. Most clients don't mind where they would like to have their shirts place. But if you do have a preference please design and label each t-shirt on a piece of paper. You may also think about:
Sweaters
Personal T-shirts
Sports T-shirts
Consignment T-shirts
College T-shirts
With some of our custom tailoring services we consult our clients with what they should expect. And examples of what we are able to provide or what we'd suggest purchasing. Generally in order to have what our clients want we would advice them to purchase some materials depending on the style of t-shirt blankets they wish to achieve. The color, texture, binding, and thickness vary so choosing your own makes it even more memorable!
Lead Time: Due to graduation season we work diligently and provide the best quality product. Please don't wait til last minute, come on in for your free consultation and see what we can do for you! But if you are in a rush we are still able to help you out please read our FAQ page.
Want memories but something simpler?
Did you know you can turn your T-shirts into pillow as well? Give us an email today!
———-
 #MyMNTailor 
We are Cheung's Tailor.
……….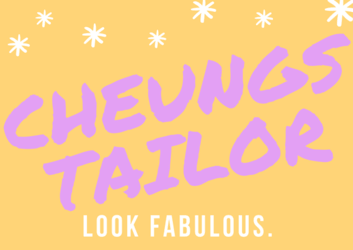 We're Here To Help You Look Your Best!
Through Creative Styles, Innovation & experience