Safety is the number one priority when it comes to working outdoors. Having not just the right tools, equipment but also outerwear is important. Safety gear is necessary for all industrial work environments, and we are able to help you custom design and redesign garment that feels right on the job. From Carhartt, Timberland, Mechanix, Craftsmen, Dockers, Caterpillar and Dickies we have worked on construction uniforms for all environments. Here is a list of some alterations we have encountered:
Construction overalls Tailoring
Work Pants Tailoring
Jackets and Coats Tailoring
Work Gloves Repair
Accessories Repair
High Visibility Clothing Repair and Tailoring
Work Shirts Tailoring and Alterations
Cold Weather Gear Tailoring
Rain Suit Tailoring
Workwear Tailoring
Here are some repairs and tailoring we have performed:
Adding High Visibility Reflective materials
Restitching and patching holes
New Velcros on Safety hoodies
Replacing String in Safety hoodies
Enlarging Safety Vests
Replace buckles on overall bibs
New Elastic on Pants
New Zippers on Jackets and Coats
*This is only a small list of what we are able to do, please let us know if you think of something else.
*Disclaimer: Some materials altered should follow certain municipal guidelines and safety measures. Cheung's Tailor Alterations is not responsible for repairs or alterations told by our clients. Please check to see if there are specific guidelines on what your employee or municipality requires before alterations.
Please ensure garments are cleaned prior to having alterations performed
We do not perform alterations on heavy duty tow ropes or straps due to stitching limitations for heavier materials, general purpose use we can.
We do not perform alterations on hazardous material suits and certain rubbers.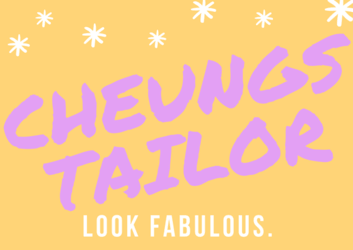 We're Here To Help You Look Your Best!
Through Creative Styles, Innovation & experience