Everyone has a different body type. So it's some times very hard to not only find one that will fit perfectly but also one that fits your body. Here let us explore some ideas of what we can do to not only shrink or even expand your dress for a better fit! ….some of the following ideas may not look the most professional but it is a cheaper option when it comes to custom tailoring alterations. 
Dress Darts: Under the arm hole, we are able to slit the side that directly on the side of your bust this can both open and close the side of your bust. This is dependent on the sleeves of your dress as well. The placement of this dart may be depend if the side of your dress has beading or a zipper. But generally a seam on the side can help out a lot! This does cause some bulging and may be uncomfortable. If this is a one night thing it should be fine, but to also be able to expand it is a great option!
Remember the benefits of tailoring, generally for a dress that you get at the mall they become as-is items and the frustration comes from something that doesn't fit you. Clothing can truly help you achieve a better looker, to look taller, slimmer and even more proportioned.
A fitted dress can either make you the most beautiful on the dance floor or someone who is drowning in their dress. Come talk to us at Cheung's Tailor Alterations and we can talk about your next style!
*This is only a small list of what we are able to do, please let us know if you think of something else.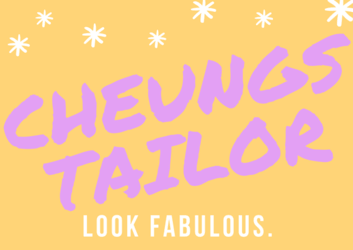 We're Here To Help You Look Your Best!
Through Creative Styles, Innovation & experience