Expect the unexpected when fitted a flower girls dress. These up and rising stars are growing! Some times very fast. Usually she'll out grow it really fast, so purchasing a larger than usual dress is not abnormal we can help you tailor it to fit perfectly or even so that she'll be able to wear it again.
Most common alterations for a flower girl dress requires raising up the shoulders, tank top styled dresses are the most common and easiest to work with. Whereas flower girl dresses with sleeves may require more work. It's also not the easiest to find fabric to match something you've purchased to bulk manufacturing on the safe side we generally recommend purchasing a size larger.
While purchasing a flower girl dress make sure to also think about the overall dress and what may be needed for alterations. If there is embroidery on the side or bottom hemming may become an issue, but we would help you also think about hemming from the waist if there is a seam. To perform this generally a zipper may be in the way and the cost of tailoring the flower dress could get more expensive.
If you have an idea or see material you like bring it into Cheung's Tailor Alterations we can help you add or remove different parts of the dress so she can shine too at your special event! Here are a list of common alterations:
Take in the sides
Add Binding to the bottom
Shorten the hem line
Shortening and add in binding
Add in lining
Take up the shoulders
Add in a zipper
Adding in lacing
Add in or removing netting
*This is only a small list of what we are able to do, please let us know if you think of something else.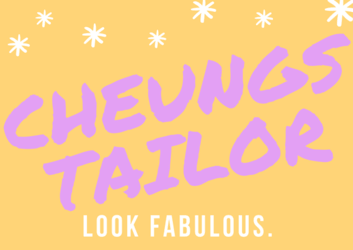 We're Here To Help You Look Your Best!
Through Creative Styles, Innovation & experience